Uncle Roy's Blog
01/05/2018
We have started to shape up the website to make it easier to navigate.
But its always useful to hear if there is anything you would like to see on here or anything that would make your shopping easier?
27/04/2018
Over the last 15 mon­­­th's Uncle Roy's has undergone huge cha­n­g­es as we moved our production centre to Ayrshire, Rebran­ded and added new Ra­ng­es to our offer­ing with many of the products now sporting their new labelling and better shelf appeal for the retailers.
25/09/2017
We have some exciting new products coming your way! We also have new labels for the rest of our range coming soon!
In order to tidy up the website a bit we are moving some of the products around so they are in more appropriate categories, bear with us while we move things around, some things may disappear only to reappear somewhere else.
If you are having trouble finding your favourite products don't hesitate to give us a call on (UK) 01292 263 583
---
14/07/2017
Our new premises is now fully SALSA Certified! We have a copy of the certificate available on the website and on request by clicking here
---
06/07/2017
We have some more amazing new products coming your way!
---
22/6/2017
We have been busy making all kinds of improvements and changes to our range behind the scenes and now its time to show you some of them!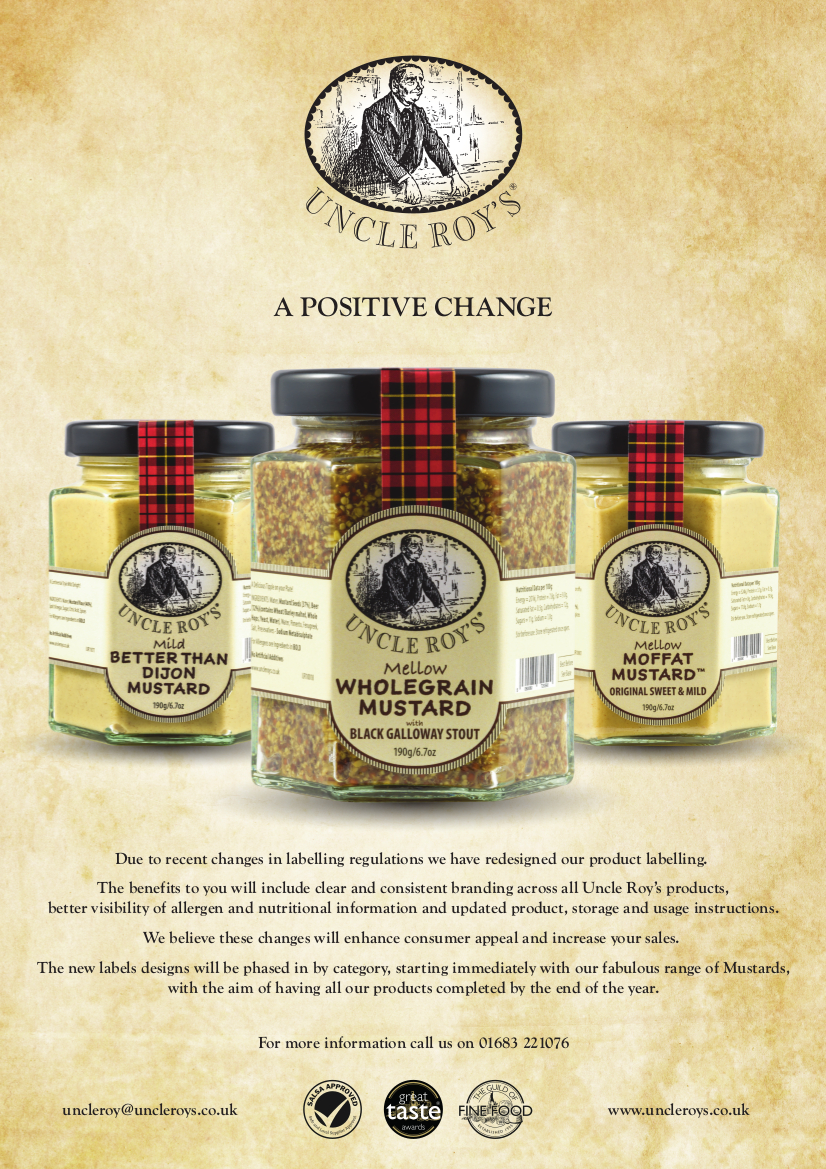 ​
15/12/2016
Our move has now happened and we are getting back to normal - sorry for any slight delays !!!!!!
22/11/2016
Uncle Roy's production is soon moving to bigger premises nearby in Ayr but no other changes apart from some new faces!!
25/08/2016
Our Vanilla Essence is now alcohol-free
18/07/2016
I COULD NOT RESIST ADDING THIS MESSAGE FROM ONE OF OUR CUSTOMERS
Got visitors? Bought the cheapest bubbly you could find? Poured and tasted it? mmmm a bit flat - no real depth of flavour. Shame!!.... but wait I wonder what it would taste like with a few drops ( That's all you need!) of Uncle Roys Blackberry Essence? Well blow me down with a feather -a sophisticated Adult-only indulgence with an edge on the decadent..........other words bloody good.
Thank you Uncle Roy for throwing the rocks away, ditching the Deli and doing what you were meant to do!!
From
A very satisfied customer who has to travel to Oban from Muasdale to get your products!
Now where did I put that cheap vodka..........to be continued!
Liz Anderson
15/05/2016
In response to frequent requests we be adding Cashew and Peanut Butter flavours to our wonderful Natural Flavours range (and of course like all the other Natural nut flavours they are NUT-FREE!!)
10-04-16
We are pleased to announce a gorgeouse new variety in our "Eat Me!" Edible Flower Petal range Orange Rose Petals- are now available to adorn cakes, plates and drinks!
17/02/16
Rabbie's Burnie Sauce - is now available. Made with all sorts of lovely things including, of course, some Scotch Bonnet Chillies as well as some honey, lime and much more
10-02-16
We are pleased to announce that the new MOFFAT TOURIST INFORMATION CENTRE - has now opened complete with a full display of our entire range. Good Luck!!!!!
20/01/2016
With no apologies to Rabbie Burns we have introduced (My Love Is Like a Red) RED ROSE SALT - to join the rest of our so popular Gourmet Salt range.
15/12/2015
In response to frequent requests we have added a WATERMELON ESSENCE to our wonderful Natural Flavours range
10/12/2015
We have a new product - SMALL PINK ROSEBUDS - great for garnishing Celebration Cakes , Desserts or simply on a plate for an exotic touch
01/11/2015
Cherry Essence
01/10/2015
Uncleroys.cz
is up and running with great reactions from local Bloggers and Social Media. Uncle Roy admits that Czech is beyond him but Lumir is doing a marvelous job job expanding our sales in south east Europe. It will be interesting to see whether Mustard Seed Oil is as great a hit in the Czech Republic as it is in Switzerland and Slovenia!
05/09/2015
Sadly - thanks to the poor Summer - the bees have not managed to produce much clear honey - and our stock has run out. . . Heather, Heath & Wildflower and Set Blossom are still available of course!!!
The wonderful dark Spring Honey from the local trees will be available in 2016. Our fingers are firmly crossed !!
31/08/2015
The Olfactory Company have opened a new store in Savannah, Georgia - with another wonderful display of Uncle Roy's.
Hoorah!!
05/08/2015
A big thank-you is due to everyone that has sent in a review!!!
It is two year to the day since we started the new website and we have had 501 reviews!!!!
We are very pleased to work out that 94% of the reviews gave us 5/5 STARS so the average rating is 4.92 stars
04/08/2015
2015 GREAT TASTE AWARD WINNERS !!!
"Oak Smokies" - Mixed Forest mushrooms
"Finest Preserves" - Rose Petal Jam
"Extra Special Condiments" - "The Best" Onion Marmalade
all picked up One Star Great Taste Awards.
31/07/2015
Natural Apricot Essence is the new addition to the Natural Flavours range. Apricot is one of Uncle Roy's favourite fruits so he is not quite sure why it has taken so long to include it!!!
17/07/2015
World Hot Sauce Awards 2015 - We did it again !!!!!
Not content with three awards in 2014
"Chillichup" has been judged WORLD CHAMPION 2015 in the Condiments-Ketchup division!!!!!
AND
"Chocolate Chilli Mustard" collected a Third Place Award in the Condiments-Mustard division!!!
04/05/2015
Great Taste Awards 2015 - our entries have been sent off and our fingers are crossed. Wish us luck!!
04/03/2015
Natural Honey Essence is our latest addition to the Natural Flavours offering. Like the rest of the range it is suitable for vegetarians and vegans. Checkout the notes on the Natural Extracts, Essences and Colours page for full details of what is - and what is not - in them.
18/02/2015
Our latest addition - "The Best" Onion Marmalade is now available in our "Extra Special Condiments" range. It is in 225g jars and is a perfect accompaniment for any cheeses or meats - and it got its name 'cos everyone here says its the best they ever encountered. Unfortunately that means that they are all eating it like mad !!
08/02/2015
THE TRON church is a historic landmark at the centre crossroads of The Royal Mile in Edinburgh and has reopened as an indoor market for Scottish Foods and Crafts. A selection of our products are on offer at "Uncle Roy's @ The Tron" - come and sample and see.....
SADLY - DUE TO FACTORS BEYOND MY CONTROL WE HAVE DISCONTINUED OUR ASSOCIATION WITH THIS PROJECT
31/12/2014
the lovely Chocaholic Zoe Perrett has included our Chocolate Mustards in her "Top 10 tastes of 2014" - read what she has to say at A Year In Chocolate
15/11/2014
In response to requests I have added a "Search" box - let me know what you think. U R.
27/10/2014
Our BLACKCURRANT CURD is now available - and Uncle Roy thinks it is Brilliant!! So that is what he's named it - BRILLIANT BLACKCURRANT CURD
21/10/2014
NEW! PLUM Essence and COLA Essence - are now available..........
08/10/2014
Speaking of BLACKCURRANT & LIQUORICE - don't forget that our sauce of the same name won a GREAT TASTE AWARD this year!!!!
08/10/2014
WOW! - A sudden surge of orders from all directions for our Natural Liquorice Essence and Natural Black Colouring is thanks to Paul Holywood's latest creation - Blackcurrant & Liquorice Swiss Roll - see http://www.bbc.co.uk/food/recipes/blackcurrant_and_96079
Maybe it would even be better with our new Blackcurrant Curd - arriving soon!!!!
29/09/2014
HOT NEWS!!! Uncle Roy's Comestible Concoctions was a hit at the
WORLD HOT SAUCE AWARDS 2014 held in Louisiana, USA.
We picked up THREE awards from the home of spicy foods!!!.
CONDIMENTS – Mustard .......................................................CHAMPION – Rabbie's Burnie Mustard
CONDIMENTS – Speciality/Unique.........................................CHAMPION – Super Horseradish Sauce
CONDIMENTS – Salad Dressing..............................................SECOND PRIZE – "One & Only Dressing"
18/09/2014
The really tangy "Finest Preserves" - Lime Curd ....has arrived !! - and it has been worth waiting for - WOW!
---
28/08/2014
"Finest Preserves" - Pineapple Curd ....is back ! - HOORAY!!!
---
18/08/2014
"Britain's Best" - That's how Cook Vegetarian described our Mild & Mellow Moffat Mustards.
---
12/08/2014
GREAT TASTE !!! - We were worried when our curd maker retired but we have trained a new one - and to reassure ourselves submitted two varieties for the Great Taste Awards 2014 - and the GOOD NEWS is
"Finest Preserves" - Lemon Curd
"Finest Preserves" - Pineapple Curd
"Finest Preserves" - Elderberry Jelly
all picked up One Star Great Taste Awards.
---
05/08/2014
Happy Birthday !!! - This new style website is a year old today!! - and we are pleased to note that we have received 293 reviews..... with an average of 4.9 stars out of 5. Thank you to everyone for your comments - they help other purchasers, as well as telling us how well we are doing.
---
29/07/2014
Latest News !!! - New Essences - the latest additions are Marshmallow and Vanilla Custard - now available. And next week we will be adding Cheese.
---
25/06/2014
Great News !!! - CURDS are back !! Following the sudden retirement, on health grounds, of our curd-maker, we ran out of curds - BUT they are back.
Lemon Curd this week.... Passion Fruit next.....
---
15/05/2014
Very nice; Great notes; Very unique and innovative - loved the heat on the finish. that's how the American Speciality Foods Association - SOFI Awards - judges described the Chocolate Chilli Mustard !!!
---
14/04/2014
Original and innovative...staggering flavour.... that's how GFGC Magazine has described the New Oak Smoked Dried Mushrooms
---
07/04/2014
New New New !!! have you noticed how popular dried mushrooms have become? Its because they impart such wonderful flavour and now we have added a whole range of Oak Smoked Dried Mushrooms that have even more fabulous flavours.
---
29/03/2014
We have added a lovely rich pink rose petal into the "Eat Me !" Edible Flower Petal range and we have called it Classic Pink - renaming the original Pink as "Candy Pink" .
---
27/02/2014
Our sales of Uncle Roy's Old Fashioned Gravy Salts just keep on rising since first Burdalls and now Co-op Gravy Salt disappeared. Don't forget the Reduced Sodium variety for those that want or need to reduce their sodium intake.
---
07/02/2014
WOW! in the first six months of the new website we have got 200 reviews with an average rating of over 4.9 stars. Thanks to you all for your kind words and helpful comments!!
---
01/01/2014
HAPPY NEW YEAR ! - Some price increases - sorry but overheads keep increasing - but the good news is that the average is only 3%- and most products are the same (even the odd decrease!)
Happy cooking !!!
---
07/12/2013
NEW - NEWS - New flavours being added to the Extracts & Essences in response to demand ....
Champagne, Kirsch, Pecan and Black Grape !!!
---
28/11/2013
Damson Jelly is back - crops were much better this year, Hooray !!
Crab Apple Jelly too - a great crop - one of my favourites !
---
1/11/2013
Great British Food says that our " fabulous edible Hot Pink Edible Rose Petals are perfect for adding a splash of colour to bakes."
Of course they are great to float in wine or champagne for dinner parties too....
---
24/10/2013
Cook Vegetarian Magazine described our Smokey Scotch Whisky Salt as "fabulous" !!!
---
23/10/2013
NEW - NEWS - Another Natural Extract added - Jasmine
- as featured in the new book from Primrose Bakery. Get with the fashion!!
---
25/09/2013
Good Housekeeping Magazine described our Essences & Extracts as "astounding"
---
12/08/2013
GREAT NEWS - We have been awarded four 2013 Great Taste Awards
Gold Star winners this year are
"Gourmet Salts" - SMOKEY SCOTCH WHISKY SALT
"Gourmet Salts" - SCOTTISH SEAWEED SALT
"Extra Special Condiments" - BLACKCURRANT & LIQUORICE SAUCE
"Finest Preserves" - CRAB APPLE JELLY
---
05/08/2013
Well here is the updated website at last! Many hours of painstaking input and proof-reading have been expended and I hope that you will find it easy to use and will not be able to find any errors, omissions or spelling mistakes - let me know if you do !
We will be adding new items, as we go along - so keep checking in!
xx - Uncle Roy